An explosion of creative energy has been unleashed. Freelancers and independent contractors were on the front lines when the pandemic hit and were the first to come up with new and exciting ways to serve their customers, continuing to build their businesses. Hairstylists — unable to cut and color in person — launched video courses to help clients cut hair at home. Cooks and chefs started offering pre-cooked meal delivery services. Exotic online experiences from around the world brought unique adventures into our living rooms.
As usual, the self-employed led the way and showed us how to adapt, adjust, and create. 
But after two years of isolation, creators are feeling burned out and require community and growth. As grateful as we are to have access to technology and virtual realms to explore, we know that there's nothing quite like sharing a bite and a drink to spark genius and unexpected collaborations. 
So we're packing our suitcases and going on Creatour to celebrate the work of creators and to host real-life meetups around the country. We are joining creators and makers where they live, work, and play, bringing together the unique voices of the modern American workforce — artists, singers, photographers, coaches, musicians, designers, writers, and more.
Creatour will be touching down in five cities across the country, where we will be hosting live events for local creators and independents to connect and strengthen their networks. We're celebrating the wins, listening to the challenges, and recognizing the impact that freelance creators have in America.
Brave meets secure
Creators striking out on their own make audacious decisions every day. To put yourself out there, ask the world to take part in your vision, and perfect your craft takes guts and persistence. And while there is risk in going solo, creators have reason to be optimistic. 
In 2021, almost half of all freelancers stated that they made more money independently than they did in traditional work. Creators, in particular, have been able to more easily scale their reach and earnings through new digital channels and platforms. CB Insights estimates the industry is worth $100 billion and growing fast.
Modern financial tools can take care of back office functions, removing the (albeit necessary) distractions, so creators can focus on their craft and trade. Catch provides personal payroll and benefits, automatically managing tax withholding and payments, retirement investments, and health insurance enrollment. Whether a creator's income is monthly or made up of multiple income streams with various pay cycles, Catch helps make the brave path financially secure.
As we celebrate and reward the hard work that creators and freelancers do every day, we'll also explore some of the new tools and systems that make it simple to focus on the work that matters most. If you're a creator and you'd like to join us, reach out to share your story and let us know where we should head next.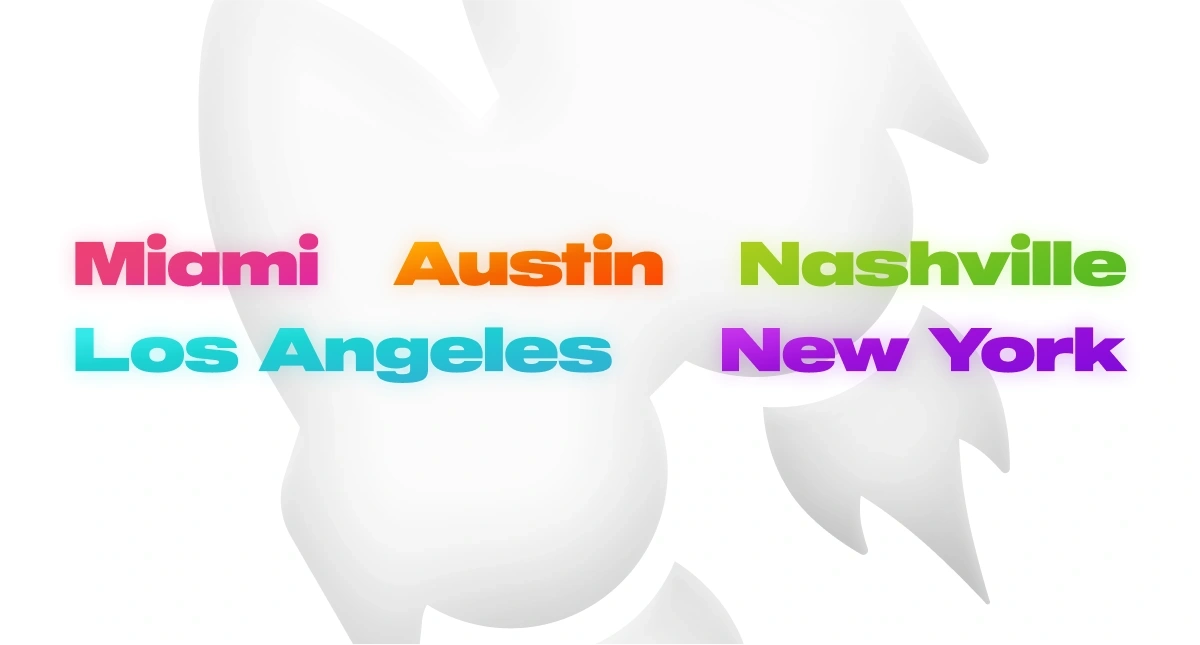 Find us on Creatour
We're taking to the streets and may be touching down in a city near you!
New York City 
The tour kicks off in New York City — our headquarters, as we connect with creators freelancing in NYC. We'll see creative artists from all over the city, many of whom are giving up traditional careers to pursue their passion. Sacrificing the known to start a business is a bold move, and we know that New Yorkers have the ambition and drive to make it. 
Miami
We'll head down south to turn up the heat and meet people freelancing in Miami. Florida is one of the hottest states to set up shop as a freelancer and business owner, especially in the beautiful city of Miami. With no state income tax, a booming tech scene, and a lifestyle for everyone from the laid-back beachgoers to the most social extroverts, Miami is paradise. Check out why we're heading to Miami in our blog post. 
Austin
After a couple of events across the east coast, we figure we'll be hungry and ready to share some BBQ with the locals freelancing in Austin. The ecosystem of the self-employed in Austin has grown exponentially over the last few years with diverse artistic talent, skilled tech workers, and new small businesses adding culture and flare to the Texas capital city. We can't wait to meet the locals and celebrate their success stories on May 12th. RSVP here — using code VIP — and check out our blog article on the freelancer scene in Austin.  
Nashville
Next, we'll head to Nashville to see the sites and pay homage to some of the original creators: independent musicians. With a thriving arts scene and beautiful coffee shops to fuel people working remotely with caffeine and pastries, the community of creators freelancing in Nashville is buzzing. Of course, we'll be hitting up some live music while we're in town.  

We'll be swapping stories and personal payroll tips on June 29th. RSVP here — using code VIP — and come give us your gig recommendations.  
Los Angeles 
We're going West to La La Land to talk shop with the makers, freelancing in LA. The City of Stars has always been one where big dreamers go to pursue their passions, and we can't wait to meet those in the city making it happen across many different industries. We'll be enjoying the sunshine and celebrating the wins for freelancers in LA on July 21st. RSVP here with code VIP.
The future of work is here. At Catch, we celebrate the passionate and empowered freelancers, boldly carving out their career paths one step at a time. See you on Creatour!